Lawton Station: Bluffton, South Carolina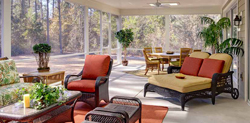 Lawton Station, a gated community made up of three distinct neighborhoods, offers home buyers 14 different floor plans, ranging in size from 1,725 square feet all the way up to 3,403 square feet. Its most alluring draw, however, is its location, just a short drive from two of the most interesting areas of the Southeast Coast.
Located in small-town Bluffton, Lawton Station is a short 20-minute drive from Hilton Head Island, a summertime sanctuary with a population that swells to nearly 300,000 during the serious beach season. Meanwhile, just 25 minutes to the south of Lawton Station is stately Savannah, the resilient seaside city established by Gen. James Oglethorpe in 1733.
The Marine Air Corps Station in Beaufort also is nearby, and historic Charleston, where the first shots of the Civil War were fired, is less than two hours away.
Visiting the great cities and the sunny vacation spots of the Southeast certainly can be fun and interesting, but staying home in Lawton Station isn't a bad idea, either. Residents of the community enjoy a lake, a centrally-located park, a resort-style swimming pool and large clubhouse, a fully-equipped fitness center, a playground and sidewalks.
"Lawton Station is all about lifestyle," said Leslie Ehlers, who handles marketing for Village Park Homes, Lawton Station's builder. "There's something for everyone, from young families to retirees."
She pointed out that retirees can choose an option especially suited to the way they live. "Lifestyle" homes are one-story houses with flex space upstairs that can be finished.
"If they have grandkids, the upstairs is really great," Ehlers commented, adding that a wide range of upgrades are available in Lawton Station homes, including gourmet kitchens, higherquality cabinets and HardiePlank or stucco exteriors.
Ashley Ahmann, who has lived in Lawton station since May 2011, appreciates the close relationship among the people who live in the community.
"I really like living here because I like being in a neighborhood with people who wave when you go by and pick up your newspaper for you when you're out of town. We watch our neighbors' house and they watch ours. There's something to be said about neighbors who really care about each other."
She added that residents can participate in a variety of social events.
"We play cornhole every Friday night, and they do a lot to get people involved in the community," she said.
Beyond the neighborhood's smalltown atmosphere, Ahmann, who moved to Bluffton from Atlanta, also is impressed with the customer service and attention to detail offered by the builder, Village Park Homes.
"We looked at a lot of different neighborhoods in Bluffton, and Lawton Station was a great value for the size of house we got," she said. "And the builder allowed us to make some custom changes to the house to fit our needs rather than making us fit into the house. The builder paid so much attention to detail, it was like our house was the first one they built."
Cassie Mead, who moved with her husband to the Avondale section of Lawton Station in June 2011, agreed that price and quality were key factors in their home-buying decision. In fact, there's little she doesn't like about their first home.
"It's really in a quiet and peaceful setting," she said. "And there's a good mix of working professionals, retirees and young families. The amenities are nice and the location is great."
For more information about homes in Lawton Station, call (888) 568-1965 or visit www.villageparkhomes.com.